June 30, 2017
June 30, 2017
Rethinking HTML5: Updates on Digital Predictions for 2017
In my hot take from last time, I prophesied that HTML5 use would decline:
"HTML5 animated ads don't necessarily have a better CTR (click-through rate) than static ones. They also take longer to produce, so their ROI needs to rise accordingly."
We've been watching our HTML5 performance closely, and while the sample size is limited the data is pretty clear. Here are stats from a sample campaign – I won't name the client, but let's just say they're a national QSR brand specializing in sandwich artistry.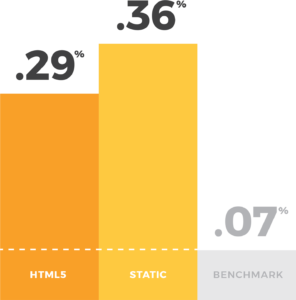 (I should also note that the industry benchmark CTR is only 0.07%, so both formats performed well above average.)
When you factor in the increased concept, design, and development costs of HTML5, the digital display ROI champion is definitely static ads.
But if you're still craving that sweet, sweet animation in your digital ads, might I recommend digital video instead? Video ad support has been exploding in the past year, it's far less creatively limiting, and much easier to resize/repurpose for other uses – including placement on social media networks.
This Subway spot was produced in-house for a limited budget, and ran via one of our premium video networks – meaning this was playing on Hulu and other big-name digital streaming video platforms.
It's not conceptually earth-shattering, but it does exactly what it needs to – hit you with Subway messaging before you can press the Skip Ad button. And with better-looking animations than HTML5 can easily render.
Best of all, it moved the needle for the client, with almost 6 million impressions. Which is, after all, the reason we do what we do.