October 18, 2017
October 18, 2017
National Seafood Month Promotes Tasty Heart Health Options
Asher Agency's third year of promoting seafood nutrition hit new highs for citizen and media interest in this grassroots "heart healthy" campaign.
The September 30 Charleston SeafoodFEST we coordinated at the Capitol Market was a tremendous success, offering seafood cooking demonstrations, tastes of West Virginia-grown salmon, free Omega 3 testing, educational speakers and a variety of family-friendly activities. Our client, Linda Cornish, president of the Seafood Nutrition Partnership, was on hand to offer remarks and greet community members of all ages who participated.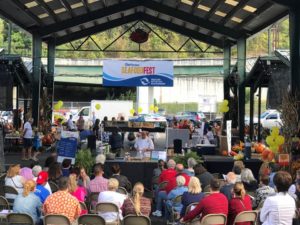 Our campaign's cardiologist, Tania Babar, M.D., points out that the USDA/HHS Dietary Guidelines call for all Americans to consume seafood at least twice a week; yet only 10 percent of us follow through.
My colleagues in our West Virginia office and I enjoyed seafood prepared before our eyes as well as the chance to encourage area residents to take the Healthy Heart Pledge to eat seafood at least twice a week and to be tested for Omega 3 fatty acid levels. Our agency was aided by members of our broad-based coalition ad students from West Virginia University and Marshall University.
SeafoodFEST kicked off a month-long celebration that includes seafood lunch week in Kanawha County Schools, a PTA seafood night at one of the region's schools, an aquaponics pilot in three schools, and Seafood Restaurant Week from Oct. 22-29. City councilman Andy Richardson also sponsored a resolution declaring October "Seafood Nutrition Partnership Month" in Charleston.
Consider taking the Healthy Heart Pledge – www.snpCharleston.com — and checking out our progress on Twitter using #Seafood2xWkCRW.
Seafood Nutrition Partnership (SNP) is the leading non-profit organization in the U.S. building awareness of the health and nutritional benefits of seafood. SNP is addressing the country's public health crisis through education programs that inspire Americans to incorporate more seafood and omega-3s into their diets for improved health as per USDA Dietary Guidelines. SNP has been as Asher client since October 2015, when launched a national public health education campaign in select U.S. cities, including Charleston, West Virginia.