April 4, 2020
April 4, 2020
Digital Marketing Strategies for Salons During COVID-19 and Beyond
Considering how financially and emotionally difficult it has been for salons across the country to close their doors, future opportunities might pale in comparison to the day-to-day challenges owners contend with. However, there is hope, and necessity, in the industry adapting to increasingly digital consumer habits as quickly as possible. The pandemic has accelerated the digitization of the salon space, as trends like AR try-before-you-buy hair color apps, digital consultations, and virtual events have been gaining traction for years.
In the wake of closures and staff reductions, the salon industry has been quick to motivate customers to do the following for their beloved stylists:
• Purchase appointments and gift cards in advance
• Like, mention, and leave comments on brands' social media accounts
• Invest in retail products, preferably from a local neighborhood salon
• Refrain from cutting one's own hair or using box dye
• Leave reviews (although this has been halted with Google and Yelp's temporary suspension of posting new reviews)
While these are all effective tactics, let's dig a little bit deeper into how well-known salon brands are taking these recommendations a step further to optimize their digital strategies. From there, you can decide how to leverage some of these depending on your own operational needs and budget.
Optimize your website for leads and search engines
This is the ideal time to strengthen your portfolio. With your website as your digital storefront, there are plenty of ways to not only deepen the anticipation of returning clientele, but bolster your online presence for new acquisition targets as well.
Here is an example for Clementine's Salon's "Gallery" section showing the breadth of their expertise.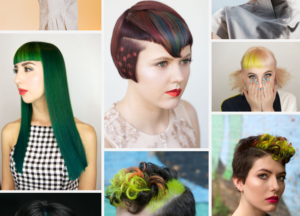 If you decide to add a portfolio to your own website, you can add an additional layer to it by applying structured data, which is data in a standardized format that makes it easier for search engines to crawl your page. Here are some categories you could use, and if you have a lot of content you could even sort your gallery based on the various attributes:
• Color Technique (Balayage, highlights, etc.)
• Treatment type (Japanese thermal straightening, keratin smoothing, etc.)
• Location (If you have multiple salons, and if you have enough content to warrant it, we recommend having a separate page for each location for SEO and the user's benefit.)
• Products (If you have a retail line.)
Salon Spa W offers a portfolio section in the form of a gallery, but one element that differentiates this site is that users can absorb the salon's atmosphere and its brand the moment they land on the site.  The glittering water basins coupled with clean, modern interiors conveys the sense of elegance built into Salon Spa W's positioning.
Salon Spa W also strengthens its credibility by showing a logo grid of top publications it's featured in.

If you don't have accolades like publications or famous clients to feature, you can still demonstrate strong social proof by adding a testimonial section to your website, syndicating it from directories like Google and Yelp when the opportunity arises again.
Be an authoritative and caring source on social media
A common social media tactic among salons in the wake of closures has been to position themselves as experts with their products as the perfect temporary solution. This is the case for Josh Wood Color, a London-based salon. Josh Wood Color's Instagram channel gives hair care recommendations with regular posts and live Q & A's via Instagram Stories, which serves as a lead generator for their monetized digital consultations.
View this post on Instagram

Another example of an authoritative social media source is Tigi Professionals, who has placed their events marketing in the digital space by featuring speakers on Instagram Stories.
View this post on Instagram
Many brands have also continued to instill their credibility by using their influencer marketing efforts as usual, as in the case of Paul Mitchell who uses multiple micro-influencers.
View this post on Instagram
While some salons prefer a more produced style than others, what consumers care about more than anything else right now is having someone starting the conversation and being there to answer their questions. This means that you can start leveraging your expertise right now to become that go-to source for customer knowledge and hair comfort.
Create a branded hashtag
Starting a hashtag for your brand not only makes it easier to find your brand in search results, but it strengthens your online community, which is even more precious now, by keeping followers connected in a conversion they care about. The hashtags #showusyourroots and #waitforyourstylist have resonated with salon-goers and have brought in a wealth of user-generated content, but it's not too late to find your own unique phrase.
In this example, from Joico, the brand uses #joicocares to maintain the conversation surrounding a sweepstakes to support the stylists who are in need.
View this post on Instagram
This hashtag campaign not only deepens brand affinity on the consumer level, but plays well into their long-term recruitment efforts as well. Showing your support for your employees will amplify positive word-of-mouth and exposure that will make your business attractive to prospects when you're in the position to hire.
Another way to strengthen your community is to leverage your employees as your brand ambassadors, sprinkling their expertise across your newsletters and social channels to build up the anticipation for re-opening even more. Here is another example from Clementine's Salon using employee profiles and their work.
View this post on Instagram
While nothing can replace the expert, loving touch that stylists pour into their craft and the joy that circulates throughout a salon when someone walks out looking their best, the industry can't neglect the digital world we live in. As the salon experience becomes increasingly digitized whether by preference or necessity, it will continue to be more difficult to monetize solely from behind the chair. Fortunately, there are plenty of scalable and cost-effective ways to pivot services to the online space during and after these difficult times—and the people who love their stylists will be there waiting.