April 28, 2020
April 28, 2020
Advertising Trends and Strategies for Brands During and After COVID-19
From the small business owner shuttering their doors to the industrial worker facing an impending layoff, the pandemic has brought us all to a place in history where our differences are most diminished. This collection of stressors has touched every industry, and as advertising professionals we have had to be especially vigilant in consulting clients about the most appropriate places for marketing spend. As the crisis unfolds, we want to share some of the insights we have gleaned as consumer consumption and lifestyle habits evolve around us.
New creative messaging
Morning Consult conducted a March 20-22 poll of 2,200 adults that yielded some worrisome results: 57% of adults said an ad showing people shaking hands was inappropriate in consideration of coronavirus, with 55% saying the same for hugging and 53% for kissing. From there, the majority of respondents in those categories (57%, 58%, and 59% respectively) indicated that they would be less likely to purchase a product or service depicting that behavior.
As an additional case study, Hershey's pulled two ads focusing on human interaction to avoid violating sensitivities to the virus. This ad focuses on Bob Williams, a friendly senior citizen who hands out Hershey's bars to everyone to put a smile on their face. While it's rare to see anyone bringing people together with a tasty token of greeting anyway, it's not possible to have community warmth expressed physically in the COVID-19 climate at all.
There are several other brands, including Geico, Axe, and Lysol, who have been accused of running ads that neither comply with social distancing nor address consumer anxiety levels. KFC also adjusted its advertising strategy by pulling a spot that featured people licking their fingers.
Featuring human interaction in ads has always been a common, and effective, method for humanizing a brand. Thus, creatives have certainly had to live up to their title by pivoting to new forms of feel-good messaging.
A common workaround to showing camaraderie has been showing people on video calls to show that they are still emotionally together despite being physically apart. There are also brands like Olive Garden that have advertised specials featuring people together, but it was obvious that they were a family, the only situation people would be close to one another during the pandemic.
While it's unrealistic to expect industries to change their creative overnight (and we don't foresee the complete removal of group shots in all pre-produced creative), running ads in a vacuum will lead to your message falling on deaf ears. In short, we wouldn't recommend avoiding straying from COVID-19 related messaging, but rather leaning into it with tact.
(Note: Capitalizing on the pandemic isn't just distasteful, it's unacceptable from Facebook's perspective in addition to other ad platforms. The social network has banned ads and commercial listings on hand-sanitizer, surface disinfecting wipes, and COVID-19 testing kits to curb predatory pricing. The system has experienced breaches, however.)
This is significant to note because the e-commerce sector has not weathered the economic crisis unscathed as one might initially expect. People have descended into essentials mode, which means that industries comprising mainly discretionary expenses, such as luxury goods and fashion, are taking a hit. According to a report created by McKinsey & Company and Business of Fashion, online sales have declined 30 to 40 percent in the United States. This data, which also tracks losses in other countries as well, is derived from Amazon and Stackline.
Econsultancy also compiled data from Stackline to determine which e-commerce sectors had experienced the most growth and decline. Unsurprisingly, disposable gloves, cold and cough medicine, soup, and dried rice were top performing items.
While these statistics don't necessarily presage stable growth, it instills the need for businesses to pivot along with demand shifts.
Nordstrom is a notable example because it communicates multiple times on the homepage through both copy and visuals that they are in tune with changing lifestyle habits, such as opting in for curbside delivery and exercising at home.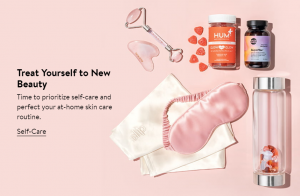 Soft-selling via social responsibility
This infographic from Morning Consult's Brand Management report denotes where consumer priorities currently lie, based on data from thousands of adult participants.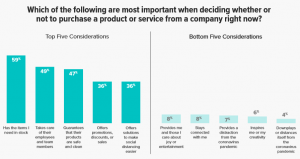 In short, it's best to accept now that you're not primed for conversions as markets, and consumer budgets, contract. While hard selling is likely to be repelled during this time, that doesn't mean you can't find gentle ways to sell, as people will still treat themselves to cope with this global stress.
Try thinking of it this way: Your brand is in the ideal position to nurture long-term loyalty in your customers and stay top-of-mind for when they are ready to buy again (as they are already still engaged on social channels). It's the forward-thinking that the airline and tourism industries have especially leaned towards, considering their dependency on human contact.
In that case, what's your conduit for staying top-of-mind, raising purchase intent, and aligning your brand with consumer passion points?
One method is social responsibility. This is an old way to nurture brand affinity, but its effect has been magnified given current events. Morning Consult dial-tested ads on participants in real-time to discover what kind of messaging audiences were most receptive to in commercials with a COVID-19 focus. Every ad surveyed through Morning Consult's COVID-19 Ad Tracker consisted of over 500 adults
These studies have found the top performing ads (including high purchase intent) were the ones that spoke to the current situation in an empathetic way, demonstrating the brand's role in supporting communities during the crisis.
Thus, it's not surprising from the survey that consumers overall react positively to commercials like DoorDash's "Open for Delivery" commercial spotlighting the unseen restaurateur work.
As the term "essential worker" has been absorbed into our everyday vocabulary, the Sam's Club commercial thanking its employees was primed for positive reception because it fits into the concept of "honoring our heroes" also communicated in DoorDash's ad.
Granted, there are marked differences in receptiveness by generation. A notable example from one of Morning Consult's tested ads is the Ford "Built to Lend a Hand" commercial. Out of all sub-populations, Hispanics expressed the most favorability with this ad. Conversely, Gen Z was less likely than other generations to purchase from Ford based on this black and white montage touring the company's history.
Looking Forward
At its core, the most effective advertising has always leaned into culture. Such is why ads that incorporate social distancing or depict families close together are viewed favorably—they resonate with day-to-day living. As you adjust your budgets and messaging, take comfort in the fact that while your efforts might not seem to yield immediate returns, your customers will remember your sensitivity and presence long after the outbreak subsides.