April 14, 2020
April 14, 2020
Quick Service Restaurants Adapt Amid a Sudden Shift Imposed by COVID-19  
The QSR industry has had to move quickly to adjust to the new regulations imposed as a result of the COVID-19 pandemic. As states implemented stay-at-home orders and closed dine-in options for restaurants, QSR owners had to drastically and swiftly adapt in order to maximize revenue. With in-store dining sales plummeting, restaurants have switched their ad creative to promote drive-thru, carry-out and delivery specials, as well as remote ordering.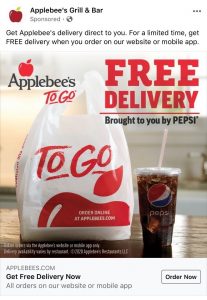 Chick-fil-A introduced a family meal menu option to feed groups of four or more people. The meals could include 30-count nuggets or four Chick-fil-A sandwiches, along with a choice of four sides and a gallon of tea. Also, they began to heavily promote remote ordering to better streamline the ordering process. The sub chain, Jersey Mike's, also pushed online ordering by offering customers 50 percent off their purchase if they used the Jersey Mike's app to place their order.
Applebee's and Checkers have also incentivized remote ordering by offering free delivery when customers order via their website or mobile app.
Wendy's is in the same boat, urgently trying to maximize sales and stay afloat in the rapidly changing environment. They expanded their delivery partners to include Postmates in addition to DoorDash and Grubhub. All three of these delivery services are taking steps to facilitate the process. Grubhub waived commissions for restaurants using their platform in order to reduce the economic impact caused by the pandemic. Postmates introduced a "no contact" delivery service, allowing customers to choose to have their order dropped off on their doorstep. Similarly, DoorDash has made "no contact" delivery as the default delivery option and has waived commission fees for pick-up orders. In addition, they are waiving commission fees to newly registered independent restaurants for 30 days.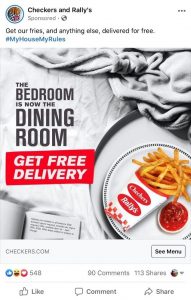 A common message among QSRs during this challenging time has been to not only assure customers that they are still open for business, but that they are taking every precaution to keep their staff and customers safe. Domino's, for example, launched their "Peace of Mind" spot to promote their "contactless delivery", assuring their customers that their pizza is not touched after coming out of the oven. Wendy's increased their daily cleaning measures, restricted travel for employees and reinforced hand washing procedures in order to keep their employees and customers safe and healthy.
"This is an unprecedented time, and we are focused on the actions where we can make a positive difference. To that end, we have taken several precautionary steps to advance public health goals, maintain essential access to high quality food, support our franchisees, and safeguard our team members and customers from the spread of COVID-19," said President and CEO Todd Penegor in a statement. "As we navigate any challenges we face, we'll do it the Wendy's Way; with a focus on taking care of our people, customers and supporting our franchise partners as we navigate through this very challenging and historic time together."
Panera took a different approach to help with their suddenly sagging sales. They were in a unique position to capitalize on the soaring grocery needs of their customers by expanding their carry-out options to include basic groceries such as bread, milk, yogurt and fresh produce, among other items. According to Panera CEO Niren Chaudhary, the chain's restaurant sales dropped by 50 percent when they had to close their dining room. The carry-out grocery sales helped bolster their revenue and keep them in business during this difficult time.
Now, if only they could find a way to sell toilet paper and hand sanitizer as part of their grocery service, they'd hit the jackpot.