March 12, 2019
March 12, 2019
President's Budget Sets Tone for Federal Appropriations Season
Many Asher Agency clients are anxiously awaiting the submission of the President's Fiscal Year 2020 budget this week — Appalachian Headwaters, Children's MAGIC U.S., Mon Health Med Center Foundation, our higher education clients, those addressing a wide range of health needs, and others.

Due to the partial government shutdown, the President is more than a month late in his budget submission. This tardiness compresses the time committees on Capitol Hill have to hold budget justification hearings and adjust the President's budget blueprint to address the nation's needs. Quite simply, while the President writes the shopping list, Congress goes to the store and decides what to spend money on. Who wins the spending tug of war will be determined by political tides. The actual spending bills need to be enacted by October 1, 2019, or the government will shut down once again.
American citizens and a multitude of those impacted – nonprofits, businesses (especially government contractors), local and state governments, higher education institutions, hospitals and healthcare providers, Social Security, disability and Veterans beneficiaries, and many others are fighting for their bottom lines.
Our clients have been applying for current grants and are depending on future funding to carry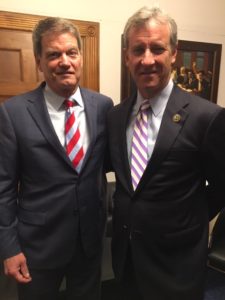 out their respective responsibilities. Therefore, now is the time to let your members of Congress know your federal spending priorities. Senators and Representatives need valuable and measurable "constituent" input as they draft, negotiate and pass — in a divided Congress — 12 spending bills that make up the federal budget.
The enacted FY 2019 budget is $4.407 trillion and the President's blueprint for FY 2020 will likely be higher. From sources, we have some hints at what the President's budget might try to achieve:
A major increase for the Department of Defense at nearly $750 billion;
An additional $8.6 billion for the 722-mile border wall separating the U.S. and Mexico (the President is trying to finish it before the 2020 election);
A five percent across-the-board reduction in domestic discretionary spending; and
Zeroing out or reducing spending for Obamacare, PBS, Economic Development Administration, Appalachian Regional Commission, Legal Services Corporation and other programs the Administration does not favor (this has largely been unsuccessful in the President's first two years in office).
I will be closely following the money in the event you need to know the status, prospects and final funding levels for specific agencies or programs. There are literally trillions of reasons for us to care, both as engaged citizens and for our clients.
Photo: Northampton Community College President Dr. Mark Erickson with House Appropriations member Rep. Matt Cartwright who represents the institution.