October 15, 2019
October 15, 2019
Micro-Influencers: Endorsement in an Era of Distrust Part 2
Welcome to the second half of our mini-series on micro-influencers! As mentioned last time, since the public's hunger for authenticity won't lessen any time soon, micro-influencers are viable marketing resources for campaigns and businesses of any size. With the floodgates open, let's consider the following factors in achieving the best ROI from a micro-influencer partnership.

Campaign Performance Metrics
Let's establish now that micro-influencers are most suitable for the awareness and consideration stages of the buyer's journey. While narrowing your focus to one campaign objective is efficient, it's useful to track metrics at all stages of the funnel. By gathering quantitative and qualitative data, it will become easier to secure buy-in from management and other stakeholders for current and future campaigns.
Much of the frustration with measuring the ROI of influencer partnerships comes from not setting up proper performance tracking. Establishing UTM parameters, affiliate links, promotional codes, and landing pages now will prevent a headache later.
Overall Campaign KPIs
Reach and impressions
Brand Sentiment
Follower Growth
Engagement Rate
Brand Lift
Increase in user-generated content
Landing page clicks
CPC
Conversions
Budget
Spend
Revenue (if sales are tracked via affiliate links)
Best Micro-Influencer Platforms
We mentioned previously that Instagram and YouTube are the most lucrative platforms for micro-influencers, so let's break down the relevant metrics for each platform in addition to their standalone applications: Instagram Stories, IGTV, and YouTube Stories.
Instagram
Gender, Age, and Location
Hours and days audience is most active
Reach, Impressions, and Engagement (Likes, Comments, Saves)
Follows, Profile Visits, Website Clicks
Instagram Stories (live for at least 24 hours)
Impressions, Replies, Follows
Profile Visits, Link Opens
Navigation: How users move through Stories
Sticker Taps- geotag, hashtag, mention, and product sticker. Additional stickers that could be used include questions (think "Ask me anything" posts), GIFs, polls ("yes" or "no" or emoji sliders), date stickers (date photo or video was created), and music (background music). In July of 2019, Instagram rolled out the "chat" sticker where a user can initiate a private chat with selected users.
Navigation Metrics
Exited: The number of times a user swiped away from a Story. Unless audience swiped up to a link or had to exit the app, exiting implies that the audience is not engaged with content.
Forward: The number of users that skipped this Story. Since Stories are normally 15 seconds, the user might have consumed the content, especially a picture, before that mark and pushed on ahead.
Backwards: The number of users that went back to this Story. If users are consistently tapping back to view a piece of content, then it seems to resonate with an audience.
Next Story: The number of taps to the next account's Story. Fast-forwarding to another account's Story could indicate a lack of interest in content.
An example of a multi-niche micro-influencer leveraging Stories is Priscilla Torres whose handle is @stylishflaneuse.
Torres' screenshot references the Victoria Miro Gallery, a contemporary art gallery in London. It seems Torres promoted the gallery on her on accord rather than being paid to do so (a sponsorship will read "Paid partnership with @ [account handle] at the top of a Story), but regardless her endorsement is still beneficial for increasing brand awareness and driving traffic.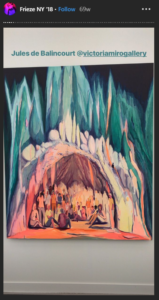 Instagram TV (IGTV)
The popularity of the Highlights feature must have presaged a desire for long-form, evergreen video content on the Instagram platform. Since the swipe-up feature is available in IGTV rather than Stories, Stories can link to IGTV in order to promote content like blogs and YouTube videos. Stories, with their behind-the-scenes, unpolished quality, can also tease more produced IGTV content. IGTV's hour video limit (for large, verified accounts) presents a boon for marketers, who will get a boost from the Instagram algorithm, which favor longer watch times. For smaller accounts, it's recommended to keep content between 15 seconds and 10 minutes.
Views: The number of views of a post or account (view = 3 seconds)
Engagements: Likes and Comments
Audience retention: The percentage of all views who completed IGTV video
Audience retention graph: percentage of views of each video at every moment. This is perfect for identifying low-performing content because you can visually see where viewers dropped off.
YouTube
Think with Google cites that as of 2019, 90% of people say they discover new brands or products on YouTube.
Watch time: The YouTube algorithm favors videos that keep audiences on the platform longest.
Audience retention: (viewer retention): How much of a video an audience watched
Demographics: Age range and gender distribution
Traffic sources (social media, Google search, etc.)
Devices (desktop, mobile, smart TVs, etc.)
Just as Instagram doesn't only cater to the beauty sphere, neither does YouTube. Product hauls and unboxings are common to influencer partnerships, and applicable to any audience or industry. Take for instance BookTube, a subset of the YouTube community rife with vloggers giving their opinions about books. A rising micro-influencer in this space is BookswithEmilyFox, who launched her channel in 2016 and has garnered over 73,000 subscribers. She's done monthly book hauls, reviews, and challenges in the BookTube community.
We've found that authenticity, or at least the perception of it, has been key in micro-influencer appeal. Thus, BookTubers, and by extension all YouTubers, must weave their sponsorships organically into their content (or at least make the promotion entertaining to watch) to retain viewers.
At this point, there is an implicit understanding between the audience and content creator that the products come from publishers, although sometimes vloggers fund their own hauls. Audiences don't seem to mind if a BookTuber casually mentions, "I received this from Epic Reads" or "this one came from Random House" and provides affiliate links to the products. That is not to say audiences will not critique content creators for their sponsorships, but most viewers would prefer vloggers to do partnerships rather than watch a channel sink from lack of funding.
YouTube Stories Metrics
This application is only currently available on mobile, so it will be necessary to do an audience analysis to see the division between desktop and mobile users before moving forward. This mobile-only application is also exclusive to channels with at least 10,000 followers, but that entry point might be lowered in later iterations.
Since there are not many metrics tied to YouTube Stories currently, it might seem like the application is a waste of time. However, micro-influencers could use hashtags and links to quantify referral traffic, just like in Instagram Stories, in the future. YouTube Stories is currently used primarily for teasing new videos and checking in with one's audience, so implementing a swipe-up feature will increase the value of this application as well. YouTube Stories clearly hasn't reached its full potential, so advertisers are positioned to seize the opportunity before the application becomes oversaturated.
Micro-Influencer Reputation
After performing a Google or YouTube search, determine if the influencer is on the rise or in decline. Is her engagement rate steady, and her following consistently growing? Even if she has large followings, you'll want to discern if she has positive or negative perception by most of her audience, and the general public.
The next stage of the vetting process is ensuring the micro-influencer has not bought fake likes or followers, since ghost followers not only penalize posts but also hurt your campaign because you have "followers" who will never act. In the case of YouTube, fraudulent activity could result in removed videos and banned channels. Examine their hashtags as well, if you haven't already in the discovery process. Hashtags like #followforfollow or #likeforlike do not bode well, for such pleas for followers allude to low quality content. A high follower count, especially one that has seemed to spike quickly, coupled with low engagement also implies that the person has bought followers.
One can discern fake engagement if the dialogue (i.e. comments relevant to the micro-influencer or his content) is absent or minimal in the comment section. Any bot can leave a one-word comment or emoji, and while real people do engage minimally with content at times, if there is no substance whatsoever in the comment section, one should analyze the quality of the audience.
Longevity
The best way to leverage a micro-influencer is to position her as a brand ambassador. If you use her for annual or ongoing campaigns, then audiences will grow to associate her with your brand. The repetition of an influencer expressing genuine delight with your brand will cement trust with the audience, whereas a single partnership might fade from the viewer's mind. The caveat to having an always-on strategy is that it will be more expensive than a one-off campaign, but you will see greater returns in the long run via an affiliate than a one-time partnership.
Micro-Influencer Interests
Micro-influencers are concerned with protecting their assets above all else. They don't want to jeopardize their following because hard-selling, even from a favorite Internet personality, might be off-putting to an audience member. Micro-influencers especially value their following because they have less proof of concept, and therefore stability, than veteran influencers. If an influencer partakes in an agreement that could potentially hurt his brand or cost him followers, then he might include a fee for that.
With these concerns in mind, let a micro-influencer harness her creativity to optimize your campaign's ROI. Micro-influencers will have their own ideas for projects, especially if they have a devoted fan base, because they know what resonates with their audience better than anyone. An influencer who deeply understands her audience will also know the best way to balance sponsored and unsponsored content.
Preparing a flexible script will streamline the micro-influencer's vetting process (since they're going to evaluate if you are a good fit for them too) and micro-influencers will likely be pleased by your organized process and sensibility, which will be conducive to long-term partnerships.
Food for thought: if an influencer thinks a partnership would hurt her following, then that resistance could allude to a fault in your product. If your product has a glaring issue, then it will be magnified by an influencer's promotion, damaging both your reputation and her own in the process. While micro-influencers can amplify positive brand sentiment, they are not qualified to mitigate negative PR.
Compatibility
Since the mismatch between celebrities and brands has exacerbated their decline in influence, don't waste resources on a campaign that will be perceived as disingenuous. By partnering with influencers in your niche, you can partially sidestep that risk. While the impact of working with a multi-niche micro-influencer requires more vigilance, it may also yield more return because you could reach multiple audiences. If the micro-influencer's specialties align with different aspects of your brand, then all the better! In Torres' case, fashion and art frequently overlap, although an influencer is not obligated to showcase all aspects of her brand in one form of messaging.
Another key component of the micro-influencer litmus test is evaluating what partnerships they have done in the past. If they are committed to other brands currently and looking forward, will their involvement with competitors muddle your own messaging?
Partnerships aside, what are the characteristics of this influencer's branding, and what kind of audience member does she seem to attract? If the person is high-energy and unfiltered, but your brand conveys a calm, relaxed feeling, your audience might feel a disconnect between your brand and the influencer. In terms of content, does the influencer seem to be pivoting toward an area that doesn't fit with your brand? The ideal partnership would be with a micro-influencer who incorporates your product into her daily life, so audience members can envision themselves doing the same.
Cost
Internet marketing service WebFX calculates the average influencer price as $10 a post per 1,000 followers.
For YouTube, Social Bakers cites the following rates as of 2019:
50,000 to 100,000 channel subscribers: $500 to $1,000 per video
100,000 to 500,000 channel subscribers $1,000 to $3,000 per video
500,000+ channel subscribers $3,000 to 5,000+ per video
The chosen platform and format impacts fees as well. For example, a micro-influencer primarily on Instagram will charge more for an Instagram post than a Snapchat one, and Snapchat would be cheaper in general because there are fewer users. Additionally, one Story could be made at a fraction of the cost of a video, so you would need to strategize their frequency over the course of a campaign (i.e. folding a few Sponsored posts within a session of several Stories). The influencer's popularity will also impact her rates.
Micro-influencers also prefer compensation in different ways. Some might be happy to receive gifts and exclusive products to showcase on their platform. Others might want to contract an affiliate deal, receiving a commission for any products or services sold from their referrals.
In terms of production costs, Instagram posts are generally cheaper and easier to create and publish than YouTube videos. However, if you're collaborating for a modeling shoot, the labor costs to prepare the influencer (hair, makeup, clothes, etc.), props, photography and editing might exceed that of video. Keep in mind too that platforms like Instagram Stories and YouTube Stories are designed to be raw.
Legal Guidelines
You'll want to establish parameters with micro-influencers from the outset, including who will maintain ownership of the content, if content can be used for other purposes or platforms in the future, and how the partnership will be disclosed. Both influencers and brands have become increasingly aware of Federal Trade Commission (FTC) guidelines, which obligate influencers to disclose partnerships with brands. COPPA (Children's Online Privacy Protection Act) and LDA (Legal Drinking Age) compliance advertising should also be kept in mind. There might be industry-specific guidelines to keep in mind as well. Micro-influencers might also have their own agents and contracts, so prepare for stipulations and handling fees along with other compliance.
Micro-Influencer Outreach
Whether you're searching for the right micro-influencer, negotiating a partnership or navigating relationship maintenance, micro-influencer campaigns can be tricky to execute.
If you have questions or want to give influencer marketing a try, email or call us so we can chat about what would be best for your business. We're always available to talk about a unique solution or strategy!
Co-author: Marisa Sloan