November 16, 2020
November 16, 2020
Beyond Facebook and Google: Underrated and Emerging Advertising Platforms to Keep on Your Radar
With the ever-changing digital landscape and need to balance budget with exposure, it can be easy to default to the common advertising platforms rather than branching out. After all, Facebook and Google Ads rise to the top of the media mix because they have a wealth of information about users and sophisticated targeting capabilities like Customer Match as well as Custom and Lookalike Audiences. However, since there are always new contenders offering innovative and cost-effective ways to win market share, you could be sleeping on a platform that's an ideal fit for your brand.

That's why we have compiled a list of growing and sometimes overlooked platforms to open new windows of opportunity. From generating awareness to driving conversions, these platforms can help you connect with your audiences—and entice new ones.
Nextdoor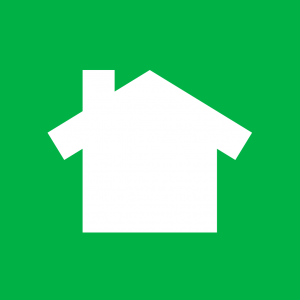 The desire to be part of a community is an aspiration that many social networks seek to fulfill, and Nextdoor differentiates itself by championing authenticity. This app is a unique community network where users identify as part of a neighborhood. This platform sidesteps spam accounts and fake reviews from competitors by requiring all members to be verified with real names.
Verified homeowners (or renters) sign up and gain access to their neighborhood portal based on their zip code, which creates a kind of hyper-relevant Facebook feed. Here they can access content exclusive to their neighborhood, discussing everything from local eateries to garage sales to recommendations for furnace repairs. As a result, the user base inherently trusts the reviews and recommendations from their neighbors even more so than they would online reviews from strangers.
Considering that consumers have shifted their focus from global brands to sustaining local businesses, Nextdoor is the ideal platform for brands to reach consumers, form 1-to-1 relationships, and strengthen their community presence.
The key metric for success on this platform is recommendations. Since the platform's business model is built upon promoting nearby businesses, it is a viable channel for growing word-of-mouth, especially in industries like real estate and HVAC where location is critical.
The Nextdoor app offers packages for both local and enterprise-level brands, and over time it will likely expand with more of a mid-tier offering to service more small and multi-location businesses.
Right now, there are 3 ways to advertise on this platform:
Tips and Advice: These ads function like Google paid listings, appearing in relevant search results. From there, brands engage customers by answering their questions and comments. By being that trusted source in a customer's time of need, you optimize your chance of building a relationship with a prospect and securing a conversion.
Sponsored Ads: These ads are created by regional and national businesses and as expected require higher budget thresholds. They can be served via multiple ad formats, including display, video, lead gen forms, email, Nextdoor's local marketplace (this is known as For Sale & Free; it mimics Facebook's Yard Sales feature), and the in-app newsfeed where users can call a business with just one tap.
Local Deals: This is a low-cost way to promote local offerings, such as meal discounts. Like setting up a campaign objective, you customize your deal for the following business goals: attract new customers, drive traffic, and increase sales both online and in-store. Neighbors who save the Local Deal also receive an email reminder to redeem their offer before it expires.
TikTok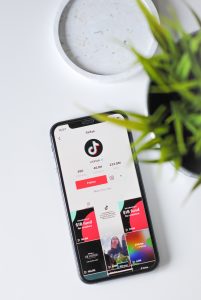 Contrary to popular belief, this short-form video platform isn't just for Gen Z, or millennials nostalgic about Vine. While you wouldn't want to adopt a platform on usage alone, the statistics are impressive: TikTok currently boasts 800 million monthly active users, surpassing LinkedIn (760+ million), Reddit (430+ million), Snapchat (229+ million), Twitter (330+ million), and Pinterest (442+ million). Based on monthly active users (MAU), TikTok is the sixth most popular app in the world.
This platform is often used to showcase the more light-hearted, comedic side of your brand, which is great for sowing the seeds of brand affinity and building trust.
While this platform is known for its dance trends and hashtag challenges, the platform's visual and interactive qualities can be harnessed for any brand and tonality. If the United Nations can spread awareness about using rural agriculture to end world hunger, then brands can certainly harness a more somber angle to capture people's attention.
Like FB ads, TikTok lets you create Custom Audiences and Lookalike Audiences, drawing from the data sources of customer contact information, website traffic, app activity, or ad engagement.
The targeting capabilities are simple: location, language, age, interest and device. Similarly, campaign objectives are narrowed down to reach, traffic, app installs, and conversions. There is no doubt these capabilities will expand as more advertisers utilize the platform. Additionally, advertisers can create Custom Audiences and Lookalike Audiences just like with Facebook and Instagram Ads Manager.
TikTok currently offers 5 ad placements:
In-Feed: These ads are between 9 and 15 seconds long, appearing between videos and often resembling user-generated content. A good way to think of them is like the ads interspersed in Instagram Stories. You can include a call-to-action at the end of the view to encourage users to download an app, shop a product, or visit your website.
Brand Takeover: These full-screen ads are more expensive than In-Feed ads and designed to garner mass awareness. Brand Takeover ads appear as soon as the user opens the app, and they include a custom link to a brand's website. This placement is coveted real estate because users only see one of these type of ads per day.
TopView: these are like Brand Takeover ads but instead of displaying immediately when the user opens an app this placement is the first post that appears in a user's feed after 3 seconds.
Branded Effects: Like Snapchat and Instagram Lenses, brands can create shareable stickers, filters, and AR lenses as a fun way to create an emotional connection with their audience.
Branded Hashtag Challenge: Like other social media channels, a brand asks people to perform a certain task, such as a dance, and tag them using a specific hashtag. When a user clicks on a sponsored hashtag, they are directed to a landing page with a brand's logo, website link, description of the challenge, and top videos with the hashtag.
This option is ideal for brands leveraging influencer marketing because partnering with popular creators can earn the hashtag challenge a prominent place in the Discover banner. This investment then pays for itself with the brand affinity and purchase intent that comes with mass exposure.
Microsoft Advertising
Considering that you can import Google Ads directly into your Microsoft (formerly Bing) Ads, it's worth considering this paid search platform to complement your PPC strategy. Although Google dominates the search market, at least 129 million users are reachable with Microsoft Ads in the United States alone.
As expected, Google Ads offers the widest array of targeting capabilities, but the Microsoft Ads set is still robust. A targeting feature unique to Microsoft Ads is LinkedIn profiles, which is useful for companies focused on account-based marketing. Additionally, the agency Spinutech conducted a study that found that running Microsoft Ads was on average 20-35% cheaper than running Google Ads. The lower CPC is attributable to there being less competition among advertisers, and with that less reach.
An audience targeting capability unique to Microsoft Ads is In-Market Audiences, which uses customer lists from users deemed "ready to buy" based on purchase intent and click behavior in Bing. You can also target users based on device type and operating system (OS), including reaching mobile users exclusively.
If you're targeting older and more affluent demographics, you're in luck. Nearly 75% of the search engine's users are over the age of 35 and around 50% have an income of $75,000 or more. Additionally, the average Bing user spends 22% more on purchases than any other search engine.
Spotify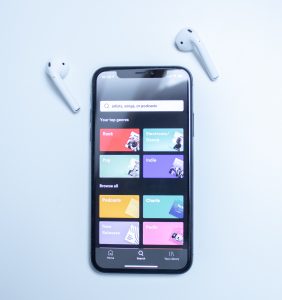 Whether you turn up some tunes to blast through the workday, or just want some sound for inspiration, music is a common thread that unites us across fragmented digital communities.
Spotify reports 320 million active users and 144 million subscribers, placing it as the world's largest subscription music streaming platform.
It's also notable that the average Spotify listener is engaged for 2.5 hours a day among multiplatform free users. This opportunity to capture attention doesn't stop at music though. The network also offers nearly 2 million podcast titles that play on Google Assistant and Amazon Alexa, which provides plenty of opportunity to integrate your brand seamlessly into daily routines.
The platform offers a robust set of targeting capabilities, allowing one advanced targeting option per ad set:
Demographic: Age, gender, location, platform
Interest: This is developed based on user podcast, playlist, and platform preferences.
Genre: A user is served ads immediately after listening to a specific genre.
Fan: This feature is available for verified advertisers promoting an artist or music event.
Real-time context: This I targeted to listeners listening to a specific category of moments, activities, or moods (focus, party, chill, etc.).
The platform has made strides in developing an end-to-end funnel for marketers as well. Spotify's Streaming Ad Insertion technology, SAI, delivers targeted ads based on a person's demographics and other data points in real-time.
Delivering this precision targeting not only offers a personalized experience but enables advertisers to acquire audience insights and see the results from ad delivery, rather than the old method of measuring performance through downloaded RSS feeds.
The likelihood of skipping ads is also slim compared to other platforms because ads are often read by the host whom the audience trusts (like influencer marketing). Additionally, users risk breaking continuity in the content if they skip over anything.
SAI also powers interactive ads known as "In-App Offers," which circumvents the traditional conversion path for podcast listening that requires the listener to remember a coupon code or vanity URL and visit a website later. This method offers a visual ad that displays the sponsor on the podcast's episode page, which means that the listener can hear the ad during the podcast, a primarily screenless experience, and find the visual reminder when the episode is over. The visual ad contains an embedded link that leads to an advertiser's webpage, and the promo code is automatically inserted when the user visits the landing page as well. This direct, streamlined checkout experience makes conversions even more seamless.
Pinterest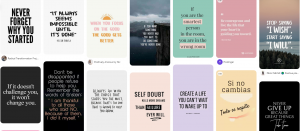 No other platform has been able to speak to the human tendency for collecting like Pinterest. This platform also stands out as a social network because it de-emphasizes follower count and prioritizes exploration and ideas. With upwards of 322 million active users, Pinterest has a broad audience to catch. This platform is by no means reserved only for lifestyle brands, but as a visually driven platform the best performing ads contain beautiful, high-resolution imagery.
Since the key reason people use Pinterest is to get inspiration and ideas for products, this platform is perfect for introducing your brand at the beginning of the buyer's journey. You don't need to limit yourself to just the awareness state, however. With full-funnel campaign objectives and a suite of targeting capabilities, you can harness this platform for direct purchase as well.
Pinterest offers a sophisticated range of targeting capabilities:
Demographic: Age, gender, location, language
Keyword: Ads appear in search results and related pins, similarly to how related products and sponsored ads appear when browsing on Amazon. You can also include and exclude keywords like you would for a search ads campaign.
Interest: Here you select topics related to your ad to reach audiences that have similar interests.
Expanded: This option extends your campaign's reach by automatically targeting audiences with similar keywords or interest. This method works best for an awareness campaign.
Customer list: Target audiences who have already interacted with your brand by uploading a list of emails mobile ad IDs (like you do to create Facebook Custom and Lookalike Audiences).
Lookalike targeting: This feature allows you to reach a larger group of people who look and act like your audience (A lot of Facebook déjà vu isn't there?). This is known as your Actalike audience.
Visitor retargeting: You can serve ads to people who have already interacted with your site as a gentle reminder to return or purchase an item sitting in their cart.
Pinterest offers an impressive amount of ad placements and will likely continue to expand. These are the current options:
Promoted Pins: Showcase a product as an image or video in the standard square or vertical format. With these ads, users can directly land on an advertiser's website with one tap. Once a user saves a Promoted pin, it turns into an Organic pin that can be shared across the platforms, which results in earned media from increased brand exposure. As another nod to Facebook, you can also convert high-performing Organic pins into Promoted pins the way you would "boost" a high-performing organic Facebook post.
Video Pins: These work the same as Promoted Pins but are optimal for how-to content and telling a brand story. Applying text overlays is effective for this placement because you can expect that most of the time audiences will have their volume off when scrolling through their feeds.
Shopping Pins: Like Google's Product Listing Ads (PLA), retailers upload products directly from their store catalog. These pins contain critical info for buying decisions, including product descriptions, real-time pricing, and availability.
App Install: As expected, these pins drive app downloads. These link directly to the Apple Store and Google Play while allowing the user to stay in the Pinterest app.
Collections: This placement is unique to Pinterest, showcasing several products at once along with lifestyle photography. People being able to envision themselves interacting with the product is important for driving conversions.
Carousel: These ads behave just as they do on other social platforms with a maximum of 5 "cards" (images or video) that allow you to tell a continuous story by highlighting several features of a product or promoting multiple products at once.
Shoppable Pins: These allow users to directly buy a product from a pin. With one click, users are directed to the product's purchase page.
"Shop the Look" Pins: A form of Shoppable Pins, these are a great way to link to several products at once in a single Pin. Like Collections, viewers can see products in the context of use and click through to check out on the retailer's website. Each product available for purchase in the photo is shown via a white dot that users can click on to see more. These white dots are referred to as Tagged Items.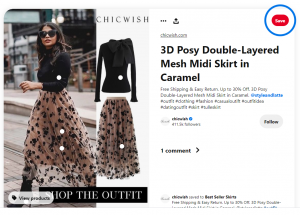 Key Takeaways
Since social networks vary widely in their targeting capabilities, user bases, and ad spend thresholds, we recommend allocating at least 10% of your advertising budget toward experimentation.
While we often advocate for clients to use advertising heavyweights like Facebook and Google Ads, success comes down to tailoring content for one's audience, and selecting platforms accordingly. We hope this compilation of growing and niche advertising platforms can assist your journey to a (near) perfect marketing strategy.