April 14, 2020
April 14, 2020
Asher Custom Web Portal Solution
Running a business can be difficult, but asset management shouldn't be. In between managing employees, vendor relationships, and day-to-day operations, you don't have time to waste searching around for files hidden away in personal folders and Dropbox accounts. You need to have your company's key information not only centralized, but secure, intuitive, and accessible for all parties in this increasingly remote world.
To help you focus on running your business rather than pouring hours into organization, we've made it easy for you to house all your internal content from educational materials to sensitive documents. Our developers have built a customized web portal to streamline communications, facilitate workflows, and strengthen the community between your company and users in a personalized way.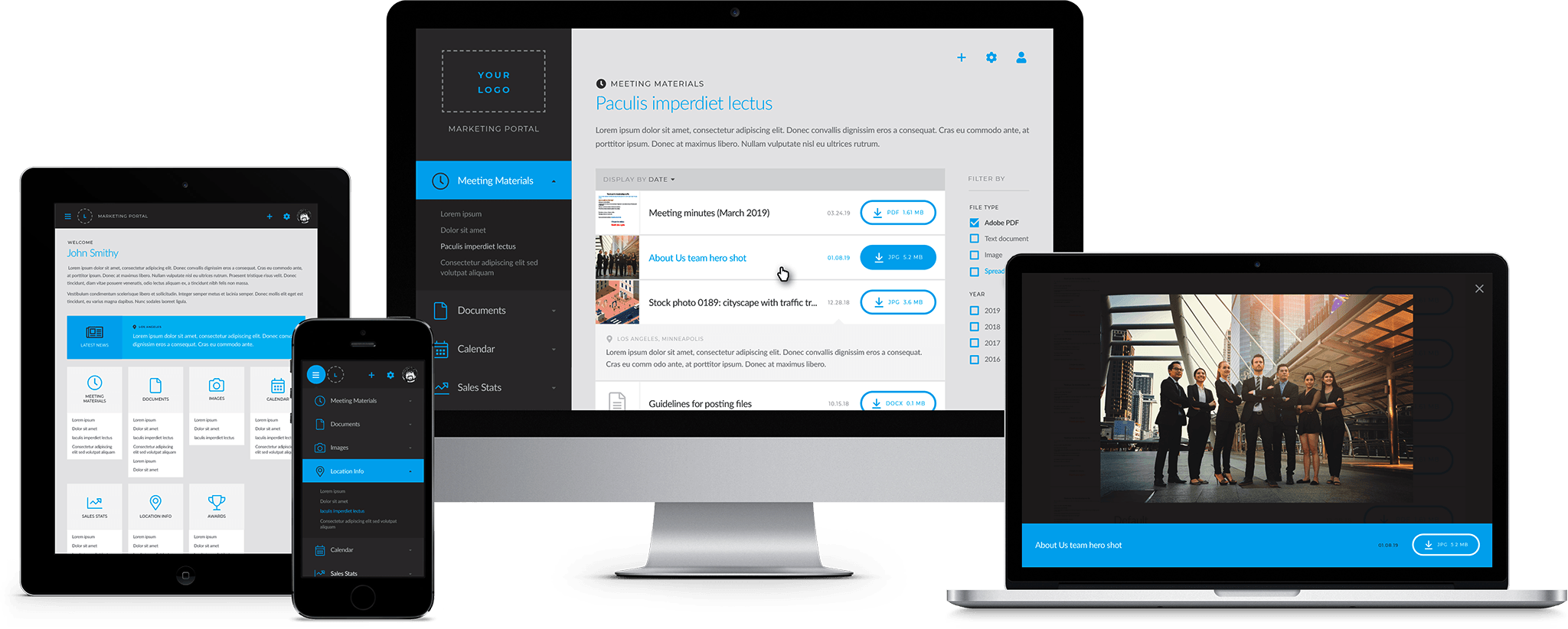 Asher's custom-developed web portal solution creates a central hub for your communication, file sharing, and document storage.
One stop shop
No more fielding requests for the latest version of a file, or having to search a combination of emails, servers, and hard drives for that important document. It's all on your portal.
Files and filters
With a robust segmented visibility system, your portal gives you access to every file and category, but your end users will only see what you allow – and all from the same central login screen.
User-friendly simplicity
Uploading or downloading files from your portal is a snap, with a simple interface that gives you and your users only the controls you actually need. No confusing extras, and no coding or FTP knowledge needed.
Work on the go
As an online, cloud-based solution, your portal allows you to post files and communications from any device or location, and your users to access that information from wherever they are.
Promote your brand
Don't create confusion by driving your end users to a third-party service without your name on it. Your portal will be branded with your logo and colors, and live at a URL you choose.
Franchise tested, client approved
We developed this product based on Asher's 40+ years of experience in agency/client relations, and our specific focus in the franchise model with clients such as Subway and Fantastic Sams. We can deploy this portal system for top-down communication (a franchise with their franchisees, or an agency with their clients) or for lateral communication (members of a company among themselves).
Support for the long haul
We don't launch a portal and walk away – we host and maintain our portals on an ongoing basis, with technical support for you and your end users as well as periodic rollouts of new product features. All covered by our flat monthly rate.
Want to learn more?
Visit this page for a deeper dive on our portal's capabilties, or contact us to schedule a discovery session. We look forward to helping you streamline your communication workflow.