July 20, 2022
July 20, 2022
A New Day for Asher: New changes lay groundwork for continued success.
As Asher approaches its 50th year in business, something that is a real achievement in the fast-changing world of marketing, there is big news to share.
Asher is under new ownership as a woman-owned, completely local and independently operated business.
That's right, Asher now has new (yet very familiar) owners. On July 1, 2022, Asher was purchased by President, Kara Kelley, and CFO Megan Bennett. Ash Crest Corp., a company focused on preserving and growing capital assets, will serve as a minority equity investor and advisor.
Asher, which was founded in 1974 by Tim Borne, was previously owned by Eastport Holding after purchasing the agency from Tim Borne and his brother Tom Borne in 2014.
Falling Into Place
The acquisition comes after months of careful deliberation. Kara Kelley and Megan Bennett began talking privately about wanting to buy the agency last spring. Their main motivation was a desire to return to independent, local ownership.
Megan Bennett says once they became serious, things progressed quickly, "Kara and I were both excited about the opportunity, but once we found a trusted partner in Ash Crest it all began to fall into place." She continues, "We were also thrilled to receive well wishes and guidance from the Borne family, who built this business from the ground up, and support from Eastport, who amazed us in their willingness to collaborate and share their expertise."
Kara Kelley adds that the internal reaction was supportive, as well. "Earlier this year, we developed an internal message of 'Together We Grow.' Our internal team has fully embraced that idea, especially in terms of the acquisition. When we discussed the possibility of purchasing the agency with our management team, we received unanimous support, something you don't always get with such a diverse and outspoken group of leaders!"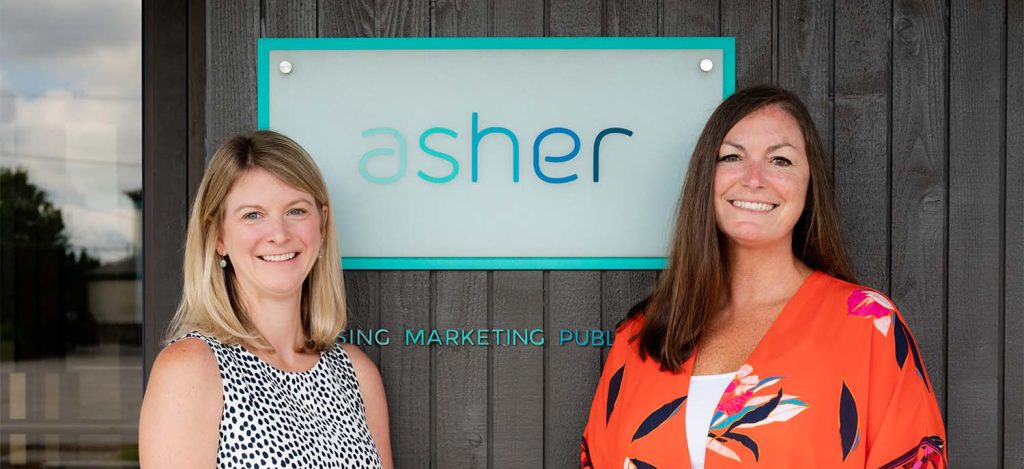 Women Owned Certification
Once the conversations about purchasing the agency became more serious, the two women also began talking about the benefits of getting certification as a women-owned business.
Kara Kelley explains, "Getting certified as a woman-owned business opens the door to resources that can help our company grow. Since Megan and I are majority owners, we are pursuing certification. It's more than a proud moment, it's a real business advantage for us. It's also something that sets us apart in our industry."
Business as Usual
Both women say they expect very little outward changes for Asher. Employees, clients and vendors will see little change in the day-to-day operation of the business. In fact, they both say that aside from some paperwork, they don't anticipate any changes in staff, the services Asher provides or how they work with vendors. The company will also retain its Fort Wayne headquarters and offices in Indianapolis, Charleston, West Virginia and Washington D.C.
The Bottom Line
"The bottom line is that we're excited," says Kara. "Our team is energized. Our clients and our vendors are incredibly supportive. And we're grateful for everyone who made this possible and to the incredible people of Asher who inspire us every day."
Megan adds a personal note, saying, "Kara and I never thought we would own an ad agency. We are beyond humbled by this opportunity and the responsibilities that come with it. The Borne family created an amazing business and Eastport nurtured us through some challenging times, including a global pandemic. Our current team and everyone who has been part of the Asher family for the past half century has made us a success. Now, as we lead Asher into the future, we pledge to honor that legacy and continue Asher's reputation as one of the most vibrant, creative and trusted agencies in the Midwest."