September 19, 2022
September 19, 2022
Working With State Press Associations Can Enhance Your Communications
In August I attended the West Virginia Press Association (WVPA) annual conference in Charleston, W.Va., and I can attest local newspapers of all sizes and circulations are seeking ways to remain relevant and leverage their assets to keep the news machine running. Each state has a press or media association, and I would highly recommend that you explore ways to work with the ones in your geography or in states where you are trying to pitch earned media content.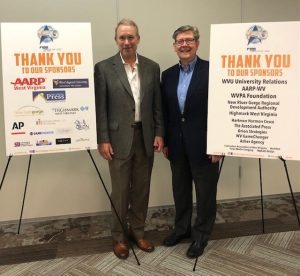 Asher Agency has been an associate member of the West Virginia Press Association for nearly a decade, and we could have no better friend and advocate for our clients than executive director Don Smith. When we have content to distribute – media advisory, news release, or opinion-editorial piece – Don and his staff place it on the association's "news sharing" site. Many local papers stream the "news sharing" content on their respective websites or publish our stories. It is not meant to be a substitute for distributing and pitching your news to the media, but it offers a safety net.
Some press associations offer a paid news release distribution service to reach daily and weekly newspapers throughout their states. It is coming from a trusted source when your agency or client might be viewed as an outsider. For a national fitness client seeking earned media placements across the U.S., I was able to retain four state press associations at a total cost of $400 to issue our news release and an image and reach 31 cities that were important to us. Some press association directors will share your content for no fee, and Wyoming's press association news distribution is always free.
Another benefit to exploring state press associations is their connections in the capital city of their states. The executive directors and publishers advocate at the state level for fair policies and regulations impacting news, online content, and advertising.
Many press associations also offer free paid media expertise. They are willing to work with media buyers, PR, and advertising firms to help shape newspaper ads (in print and online) that can help one's clients effectively communicate. Almost all the state press associations list their member newspapers, saving one valuable time in developing media lists and checking current editors.
The West Virginia Press Association even held a contest in 2021-22 among its associate members for entries of the best news releases, overall communications campaigns, videos, opinion-editorial submissions, and other content we regularly submit for their news sharing. The contest gave me and my colleagues an idea of the quality and value of our work with local newspaper leaders who judged the contest and recognized the best submissions.
State press associations are a great resource to boost your communications, advocacy, and marketing campaigns. For help with any media relationships, Asher is always happy to help.
#  #  #
Mike Fulton is director of public affairs and advocacy in the Washington, D.C. office of Asher Agency. He earned his journalism degree from the Reed College of Media at West Virginia and worked for student and community newspapers early in his career.