August 7, 2019
August 7, 2019
Third-Party Delivery: Dining's Destiny or Boulevard to Bankruptcy?
Chances are that if you haven't hopped on the third-party delivery services bandwagon, then you're probably waiting for the smoke to clear from the food service wars. The lawsuit against Grubhub for purportedly charging restaurants for non-order calls is gasoline on the franchise fire.
But turning a blind eye to delivery, especially for QSR franchises, is not wise either. Chew on these statistics:
59% of millennial restaurant orders are takeout or delivery [Restaurant Business, 2017].
21% of consumers are increasingly replacing carryout orders with delivery orders. This is 30% for 18 to 34-year-olds [Restaurant Business, 2018].
98% of mobile-pay sales are quick service [NPD Digital Evolution of Foodservice Report, 2018].
Sales for the 5 largest third-party providers generated nearly $10 billion in 2018, up 55% from 2017 [Technomic, 2018].
31% of third-party delivery consumers use the service at least once a week [Mintel, 2016].
By 2020, food delivery app usage should surpass 44 million people in the U.S., reaching nearly 60 million by 2023. By 2021, more than 20% of U.S. smartphone users will use a food delivery app [eMarketer, 2019].
These trends manifest shifting consumer demographics and behaviors, especially in densely populated areas. Millennials and Gen Z are stepping up to dominate the food industry, thus fueling the gig economy of working any hour of the day and prioritizing convenience.
By taking the following plateful of factors into consideration, you can determine whether third-party delivery services will be beneficial for your business.
Revenue
Right from the start, you want to set clear expectations with third-party services about commission and delivery fees, lest they take a bite out of your profits.
None of the major third-party couriers disclose an exact percentage of commission fees on their websites besides Grubhub, which has a sticker price of 30%. All other services charge an average of this commission rate or lower.
Take a look at the infographic on Grubhub's FAQ page for restaurants.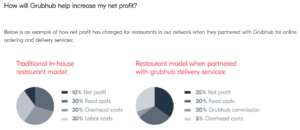 Viewing this infographic, you might wonder how labor costs disappear when factoring in Grubhub commissions. You might initially incur extra costs in adding a delivery model if you hire additional staff to process and cook orders solely for delivery. A benefit of delivery services is increased sales during non-peak hours, but you might need staff to cover those times too.
Also, how could overhead costs be reduced to 5% by implementing delivery? Unless you reduce your space, your rent isn't getting any cheaper, and any space that reduces sit-down dining would be replaced for the materials needed for a delivery fleet.
Taking these factors into account, how in the world are franchises making any money with these services?
The goal is incremental sales. According to a 2018 Technomic survey, about 60% of operators indicated that delivery had generated incremental sales. Additionally, in Technomic's 2018 Takeout & Off-Premise Consumer Trend Report, 30% of regular takeout users (those who order carryout or delivery at least once a month) indicated they typically purchased more food when ordering carryout versus dining in.
There are a few possibilities for this trend. First, if the third-party courier does not place any restrictions on the restaurant, then the provider might be charging a little bit more for the same item when it is made for delivery. Individuals might also be ordering for large groups. Lastly, some high-margin items lend themselves to incremental sales, such as dessert, alcohol, and other beverages.
But how can nearly one-third of takeout consumers consistently make incremental purchases when they are just ordering for themselves, or not buying high-margin items? One reason could be the upselling tactics of rewards programs and discounts. DoorDash, for example, offers the subscription program DashPass in some areas, which offers free delivery and reduced service fees when ordering $15 or more from a DashPass-eligible restaurant.
Another factor is the socioeconomic class of the target demographic. The research of data analysis company Thinknum indicates that the major third-party services target the middle class. At the high end of the spectrum is Caviar (which has been bought by DoorDash to broaden clientele reach), whose users have a median income of around $79,000. At the lowest end of the spectrum is Uber Eats, whose users have an average median income of $65,000.
Thus, the overall tactic of these couriers is targeting people who have enough discretionary income to regularly order incrementally.
Of course, just because some people can fork over extra cash doesn't mean that they want to. While you could possibly offset the cost of commissions by increasing delivery fees, assuming your third-party partner allows this practice, you could potentially damage sales. A 2018 report from digital ordering solutions company Tillster shows that in a survey of over 2,000 respondents, 85% said they were willing to pay up to just $5 in delivery fees, although 30% were willing to pay more for orders to arrive faster.
There is also a significant portion of third-party app users who are using these services out of necessity. Working parents, people who cannot leave their worksite to get food, and people with disabilities are some examples. To acknowledge these consumers, Uber Eats adjusted its standard delivery fee to a sliding scale to overcome the pain point of paying too much for a short distance delivery. As the courier services adapt their policies to become more accessible, it will be interesting to see if a broader customer base generates more incremental sales.
It's also important to remember that unless your business model revolves around delivery, then delivery needs to work seamlessly into other operations. All the ambiance factors that can give you an edge over the competition in securing customer loyalty are lost when the customer is off-premise. There's too much time and labor invested in training staff for excellent customer service, curating glamorous Instagram shots of food and décor, and setting up point-of-purchase displays in the effort to lure people in.
Customer Reach
A key aspect of all third-party providers' branding is that these services will expand your customer base by getting your food in front of people who would not know about you otherwise.
Grubhub is offered across the United States and Uber Eats is offered on six continents. The Associated Press states, "McDonald's says 70 percent of the orders it gets through its partnership with Uber Eats are customers it might not have gotten otherwise, particularly late at night." McDonald's has also reported that Uber Eats has increased their traffic by 10%.
Another offering of third-party services is brand exposure, which means you would be featured on a courier's social media platform. In the case of Uber Eats, the app's Instagram features food shots of restaurants across the United States, which might be helpful if you have aggressive expansion efforts and nearly universal menus.
There are also tiers to exposure. For Grubhub, you get a prioritized listing at a commission rate of 20% or higher, which increases your likelihood of showing up in search results.
If you're in a densely populated area where everyone is selecting that option, then you'll want to consider if paying the higher fee is beneficial for you. Most people are probably not going to scroll through multiple pages, especially when filtering their results, so you would want to check what page you would land on. If you're in a suburban or rural area with less competition you may not need a priority listing.
Customer Experience
This is arguably the most important factor to consider, as your business gets seared if this component fails.
The Uber Eats website states, "On average, our driver partners deliver within 15 minutes (from pickup to dropoff)." With delivery time included, that means an order could take around 40 minutes outside of the QSR sphere. Indeed, the Uber Eats site gives you an estimate of how long an order will take, with a large portion of meals ranging from 35 to 40 minutes. If you order on a holiday, you could expect an even longer wait.
In the case of McDonald's partnership with Uber Eats, Bill Garrett, senior vice president of operations, told Nation's Restaurant News that delivery times are much less than 30 minutes. Granted, this time limit applies to a franchise in the quick service sphere. Customers will likely be willing to wait a little longer for a more expensive meal, but the threshold of that patience will relate to your niche.
The next concern is how your food will taste after such a long wait, especially if the driver doesn't have any food preservation mechanisms. If it costs more to deliver a lower-quality meal, then even the time-starved customer might prefer to just dine-in, or order to-go.
According to the 2018 NPD Delivering Digital Convenience Report, 52% of consumers said they would not use a delivery service again if their order arrived at the wrong temperature. I, for one, have never been too keen on fries cold enough to chip a tooth on.
Now what's worse than brick-hard fries? Missing fries! The idea of someone sipping surreptitiously on my drink or eating just enough of my fries with the hope that I won't notice makes me cringe a bit. To prevent such a catastrophe, you can implement tamper-resistant labels and seal your dishes in bags.
If something goes wrong during the process, is the customer going to direct the blame to the driver, or the restaurant? If the customer has eaten at the restaurant prior, the blame might fall on the third-party service, but it's still a sticky situation even if you're dealing with a new consumer. Either way, you're putting your brand on the line when you cede customer service over to a delivery driver.
Restaurant Modifications
Your food will likely be the first element that needs adjusting if you opt for third-party delivery. If you're used to a sit-down model or small-radius delivery, then designing packing for a long car ride, or preparing previously undelivered food, might be a rude awakening.
Starbucks has had to refine its menu by finding out which drinks are better suited for delivery than others and making drinks hotter for wait times. Currently, the Starbucks Delivers and Uber Eats FAQ page states that in order to maintain high standards of quality, "select food and beverage items are currently unavailable for delivery." It will be interesting to see this challenge tackled over time.
Aside from evaluating the menu, you will also want to mitigate the risk of disrupting in-store operations. Common practices for adjusting to delivery include implementing extra refrigerators, counter space, to-go shelving, and parking spaces for the delivery drivers. Since it's difficult to predict how much of your sales will shift from dine-in to delivery, you will want to prepare yourself in case you have to significantly reduce dine-in space.
Customer Loyalty
The key difference between walking into a brick-and-mortar setting and ordering delivery is the opportunity to create a personalized experience for the customer. Leveraging an app is not only a way to bring people into a store, but also to compensate for the loyalty that is cultivated best within a physical location.
When someone opens a delivery app, they are probably scouting out their options. Branded apps signify intent while a buffet of options indicates hunger-fueled browsing.
Another problem is that the average user likely does not want to have multiple restaurant apps on their phone. If the whole point of delivery is convenience, the user will naturally want their food options available to them in one place.
If someone took the time to download the app on their phone, that is indicative of loyalty, which is hard to come by when consumers are flooded with options. Thus, third-party services could disrupt the opportunity you have to acquire customer loyalty digitally, but what can you do when customers inherently prefer the buffet arrangement of restaurant choices? The ability to choose from thousands of restaurants, order within a few clicks, and select in-app discounts might be irresistible from a customer standpoint.
Perhaps a hybrid model where the third-party app directs to a brand's specific app could solve the customer loyalty dilemma. The Starbucks Delivers and Uber Eats FAQ page states that "Delivery is currently only available through the Uber Eats app and not eligible for Starbucks Rewards benefits."
This poses a problem considering how much traffic and revenue the Starbuck's Rewards program has brought in by solidifying customer retention. However, according to Skift Table, the partners are working on making the Starbucks Delivers app available on the Starbucks Rewards app and the Uber Eats app.
Competition
It seems third-party services are quite keen on enterprise companies, such as McDonalds, Starbucks, and Taco Bell. Now, why would these franchise behemoths be so keen on external sources when they likely have the resources to adopt in-house delivery models themselves?
A possible reason for this increasing linkage between big brands and third-party services is that stakeholders become more removed from the day-to-day operations as the franchise expands. While it's cheaper to equip a space with delivery services in-house, it's more of a hassle to coordinate all those efforts than to outsource that labor.
There are other principles at work besides convenience for removed stakeholders, however. As of last April, McDonald's negotiated with Uber Eats to reduce its commissions on delivery charges to around 15%. McDonald's also broke its exclusive contract with Uber Eats to partner additionally with DoorDash, which has exceeded Uber Eats in sales growth. DoorDash also provides delivery in all 50 states.
Another case of negotiation of enterprise franchises with third parties is Yum brands. According to David Gibbs, Yum brand's chief financial officer, "every incremental delivery transaction for our franchises [produces] the same profit as any transaction that take place in the store." Additionally, according to Wall Street Journal, Yum's Mr. Catlett said that Grubhub and Yum have "set the deal up in such a way that the fees are not being paid by the franchise, they're being charged to the consumer." I'm sure the customers appreciate that news.
It seems the industry giants have the power and capital to negotiate with third-party services to lower commission fees and avoid long-term revenue loss. It is a great PR move for third-party aggregators to acquire such high-profile clients, so it's not much of a loss to them to have to re-visit commission fees. Over the long term, franchises partnering with multiple third-party services will pressure the courier services to negotiate competitive rates in order to stay relevant and garner exclusive loyalty with a restaurant partner.
Customer Data
The attractive aspect of letting third-party services provide the point of service (POS) systems is that it saves time for the restaurant in implementing the technology, or features, to process delivery orders. While inputting every delivery order manually is a hassle and can cause congestion during busy in-store times, a third-party POS has its drawbacks.
A significant criticism of partnerships with third-party services is the lack of access to customer data. How are you supposed to hone your targeting efforts if you don't have detailed information about the consumers who are primarily, or entirely, part of your delivery segment? You might see an increase in traffic, but you won't know the whereabouts or habits of the audience that is driving such traffic.
Going back to the possibility of negotiation, Yum's Mr. Catlett told Wall Street Journal, "We said up front that access to data is table stakes and we wouldn't consider any deal that doesn't include that." In that case, you'll want to settle on definitive terms as to how data will be handled if you partner with a courier service, which includes confidentiality of metrics in the event of third parties working with competitors.
If you would like to sidestep negotiating data aggregation, you could choose a hybrid model where you maintain control of your POS while ceding delivery to the courier. This process would reduce your commission rates, since you would be purchasing fewer services, but then you would have to put in the work of managing your website and mobile application along with implementing any new technology.
Closing Remarks
Regardless of how you approach third-party services, you can't ignore how the dining landscape is evolving. As millennial habits come to dominate the franchise landscape, restaurateurs will have to cater to such preferences to remain relevant. That is not to say fine-dining is barreling towards extinction, but quick service and fast dining are heading towards an overhaul.
Brands will likely continue to transition to third party services or develop their own in-house models until the trend peaks and delivery for every kind of meal seems as commonplace as take-out is now. Just as the implementation of customer acquisition tactics like curbside pickups and loyalty benefits have been a response to changing times, so too is an increased demand for delivery.
It doesn't matter whether you're searching for low commission rates from couriers or pulling together the resources to implement your own in-house system. Third-party delivery touches everyone in the franchise space. The significance of the trend is just predicated on individual business operations.
Every day at Asher, we study and discuss the complexities of ever-shifting industry trends and their impact on the market. If you want to further the conversation about third-party delivery and other franchise needs, feel free to email or give us a call so our team can provide recommendations based on your business needs.
As an agency partner, it's our responsibility to leverage our research and experience to help you navigate market conditions and changes with comprehensive data. Since differentiating yourself from the competition involves constant adaptation in the digital age, it never hurts to stop and evaluate where opportunities, or threats, lie.
-Coauthor: Marisa Sloan