October 8, 2018
October 8, 2018
'Think globally, act locally' is Asher strategy for client's battery challenge
In communications campaigns, it is always beneficial to "think globally and act locally."
Such is the case with Asher's efforts to amplify the Responsible Battery Coalition's (RBC) 2 Million Battery Challenge, now in its eighth month. This integrated marketing campaign has reached millions of North Americans, who are being encouraged to responsibly recycle used vehicle batteries at select automotive retailers – AutoZone, Advance Auto, O'Reilly and Walmart.
Today, RBC leaders joined with Keep Prince William Beautiful (KPWB), a local affiliate of the national Keep America Beautiful (KAB) movement, to sponsor a community cleanup along five miles of a busy road in northern Virginia. They are also working together to encourage northern Virginians to return used vehicle batteries to participating retailers for recycling. More details on the RCB-KAB partnership and the 2 Million Battery Challenge are at https://www.responsiblebatterycoalition.org/2-million-battery-challenge/
Steve Christensen, RBC's executive director, told Prince William County leaders and the volunteers assembled for today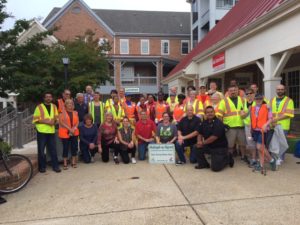 's cleanup that 2 million vehicle batteries are not being recycled each year, enough batteries to equal the weight of 1,000 semi-trucks or enough to line the length of 8,000 football fields.
Even though used vehicle batteries are the most recycled manufacturing commodity at 99 percent, RBC and its corporate members believe more can be done to achieve a closed-loop recycling system. Christensen told the crowd that recycling reduces the cost of manufacturing new batteries and yields savings for consumers buying a new one.
The work of local organizations and word-of-mouth marketing are the cornerstone of successful communications and advocacy campaigns, and the Responsible Battery Coalition welcomes others to join Keep America Beautiful and its retail partners to increase the rate of recycling and reuse of used vehicle batteries. At the same time, RBC is working with government, companies and like-minded organizations to help research and develop best practices for closed-loop recycling systems for the emerging batteries of tomorrow.