August 27, 2020
August 27, 2020
Healthcare marketing tactics for integrated care services
Along with many industries, the healthcare system has been pressured to evolve as quickly as possible in the wake of COVID-19. The strain that the crisis has put on the healthcare delivery system has brought the intersections of well-being (physical, mental, and emotional) to light. What's the solution to a stressed healthcare system? Integrated care.
The patient journey is historically fragmented because of data being siloed in departments, resulting in duplicate services or no care at all. However, traditionally isolated groups working together as a team to deliver care not only improves efficiencies, but more importantly, outcomes.
If your practice has adopted this philosophy then that's commendable, so don't let your efforts go unnoticed! Here are some considerations and tactics to showcase the value of your integrated services to attract patients with complex needs—and elevate your brand among other forward-thinking healthcare leaders.
---
Establish integrated care's value proposition to patients
From the first touchpoint with your brand, you want the benefits messaging to be top-of-mind with patients. There are several ways to communicate the value of integrated care to a prospective patient who might not be familiar with the concept. For example, this page from Bayless Integrated Healthcare illustrates the integrated care ecosystem for easy understanding.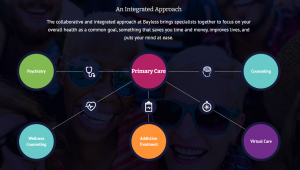 The Mayo Clinic also touches on the value of integrated data and referral systems on their homepage, with patient-focused lanuage (i.e. "seamless care").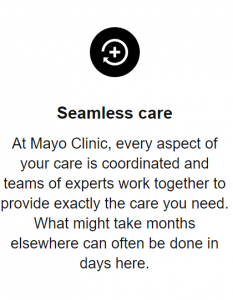 Including a main menu category or dedicated landing page are just a few solutions to drawing attention to your integrated care approach, but it is one solution to ease patient onboarding.
These are a few integrated care benefits to highlight for patients:
Shorter wait times
Longer time with provider
No duplication of services
Ease in setting up appointments
Faster test results
Personalized treatment
If you want to get a more comprehensive understanding of what your patients care about, then patient surveys are a goldmine of information as well. AHRQ's Consumer Assessment of Healthcare Providers and Systems (CAHPS) clinician and group surveys is also a great resource for keeping patient needs and perspective top-of-mind.
Data from specific patients will make it easier to include benefits unique to your network as well. For example, preventative services that are no cost to the user might be part of your integrated care program.
Define the right channels for interactions
So now that you have all the benefits outlined for patients, it's time to think about their interactions end-to-end.
For example, one of the primary concerns someone would have if they started having their care from one network would be about insurance policies. Another would be the series of people they would meet with and when. Will behavioral health specialists be called into the room after meeting with the primary care physician? Perhaps there will be a consulting psychiatrist in the background who prescribes the medications while the patients talk to a case manager? Who is the primary point of contact out of the office?
Once these journeys, or pathways, have been established in a way that is easy to communicate to the patient, it's time to define the channels to communicate the process. For example, the average consumer would likely gravitate toward testimonials from patients or physicians, or prominent FAQ pages that are easy to navigate from the homepage. Another suggestion may be the use of video, providing content that patients could absorb upfront which would ease initial weariness of the process before ever making an appointment.
Depending on the channel a patient would be comfortable with, you could have patients serve as advocates to discuss their treatment process for a comorbid condition, demonstrating how your institution helps make the process seamless, as managing a severe or chronic condition is stressful enough.
Simulating what the process looks like may also be helpful. For inspiration, you could reference one of many clips produced by the American Psychological Association alongside hospitals across the country with integrated care systems in place. These interviews showcase how providers integrate their practices across departments to ensure optimized care.
While your marketing efforts would be patient-centric, there are plenty of opportunities to establish authority with secondary audiences as well, such as investors and prospective physicians. Perhaps investors might like to consume content via traditional whitepapers or case studies complemented by a drip (automated email) campaign that nurtures them through their decision-making process through relevant content.
---
Ignoring whole person care is no longer an option. You're helping patients take their healthcare into their own hands by giving them a nuanced understanding of their conditions, so don't miss out on unique opportunities to showcase how you're keeping them at the heart of everything you do.