October 1, 2019
October 1, 2019
Public Affairs Tactics Add Value for Multiple Asher Clients
At Asher Agency, we seek to help our clients solve problems, achieve objectives or enhance their image with purpose. That can include seeking funding, increasing positive visibility and motivating key audiences to act.
Many of our clients enjoy the multiple benefits of working with all levels of government. Our results speak volumes: grants awarded; third-party validation of products, services and programs; successful nominations of federal advisory committee members; earned media placements; social media support; and the receipt of proactive ideas from government officials.

I am a communicator and an advocate who always looks at how tapping government opportunities might enhance my client's brand, product or issue.  Already this year, I have had several occasions to bring government validators and resources to my clients' campaigns; and here are three prime examples:
Appalachian Headwaters
Terri Giles, a senior leader at this Central Appalachian nonprofit, is no stranger to public service as she served 13 years as economic development director to U.S. Senator John D. Rockefeller IV. She retained our agency to help her with government outreach and her organization's lofty mission of protecting pollinators and using native plants to reclaim abandoned mine lands. These projects have resonated with policymakers, federal agency officials and the media.
Grants from the Appalachian Regional Commission, Claude Worthington Benedum Foundation and Patagonia Foundation and a partnership with the U.S. Agricultural Research Service to collaborate on a new Pollinator Recovery, Education, and Research Center in the region have been meaningful results of our work together over the past two years.
The Appalachian Beekeeping Collective has received considerable press coverage, including Voice of America, National Public Radio and this NBC-TV profile:
Mister Bee Potato Chips
I was fortunate to meet senior leaders of the iconic potato chip company from my hometown of Parkersburg, W.Va. when they brought my favorite snacks to a "Taste of West Virginia" event on Capitol Hill in Washington, D.C.  Founded in 1951, this small business created a sensation statewide with its home-produced snacks until 2010, when original family owners shuttered the business in the face of growing national competition. That paved the way for new and energetic CEO Mary Anne Ketelsen and her leadership team to revitalize Mister Bee Potato Chips.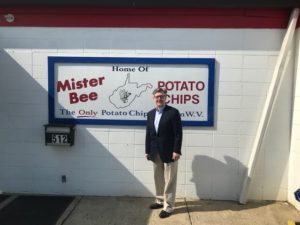 Asher has helped the company secure U.S. Small Business Administration certification for this woman-owned business as well as HUBZone certification. We are also working on website upgrades to highlight co-packing and private label capabilities, and are providing media placements and seeking out sponsorships to highlight the ownership team's community engagement and commitment to growing this business. A local community college–West Virginia University at Parkersburg–is exploring the use of its 20-acre farm to grow potatoes that could supply Mister Bee for four months each year. That is what I call local collaboration.
Recently, the West Virginia Secretary of Commerce toured the facility as part of a regional listening tour.
That third-party validation and public attention are a gold mine for a business of any size.
#2MBatteryChallenge
Digital communications can play a valuable role in public affairs campaigns like the one we waged in 2018 for a non-profit promoting the circular economy of lead acid battery recycling.  Four automotive retailers–Walmart, Advance Auto, AutoZone and O'Reilly Auto Parts–agreed to accept the returned batteries so we had thousands of places nationwide to direct our key audiences.
We launched the 2 Million Battery Challenge–#2MBatteryChallenge–on Capitol Hill in collaboration with the U.S. Senate Auto Caucus and Ohio Senator Rob Portman. Our client moderated an information-rich panel discussion with battery manufacturers, automotive retailers, and a public health leader outlining the benefits of finding and returning 2 million batteries. That represents the one percent of lead acid batteries not recycled annually (lead acid batteries enjoy a 99% return rate for reuse and are the most recycled commodity in the world).
This launch gave us a strong start in paid and social media platforms to reach those interested. This campaign far exceeded expectations:
Generating 38.4 million impressions (number of times 2MBC appeared in a search)
Reaching 7.3 million U.S. adults (number of people exposed to the 2MBC campaign through an online search)
Producing more than 310,000 click-throughs to visit the 2MBC website landing page
Driving approximately 50,000 click-throughs to RBC partner sites to find a retail location to take a battery for recycling
The direct involvement of our client's member companies and their willingness to make battery recycling convenient and simple contributed to the success of the 2MBC campaign.
Mon Health System
October 1 is the one-year anniversary of Mon Health System CEO David Goldberg returning to Morgantown, W.Va., where he met his wife and graduated from West Virginia University. It has been an action-packed year and he asked Asher Agency to help renew relationships and to explore government opportunities for the patients, staff and administrators at healthcare facilities he manages in Morgantown, Kingwood, Weston and Elkins.
Visits to Washington, D.C. and Charleston, W.Va. helped strengthen partnerships with elected officials and federal/state agencies. It is a tribute to his distinguished healthcare career (with prior positions in northern Virginia, San Antonio, Tex., and Pittsburgh, Pa.) that he was nominated and sworn in to a two-year term on the federal Advisory Committee on Outreach and Education of the Centers for Medicare and Medicaid Services (CMS):
David will have a seat at the table in advising this important healthcare agency on its development of policies, regulations and funding programs. Community care offered locally is the hallmark of Mon Health System and the sky is the limit for a dedicated CEO and leadership team committed to exploring government partnerships at all levels.
Summary
Government touches every aspect of our lives, and we need to view it as an asset and not a liability in the execution of integrated marketing communications campaigns. We should instead seek to better understand how we can appropriately partner with our government to enhance our respective organizations' missions.
# # #
Mike Fulton directs the Washington, D.C., office of Asher Agency and teaches public affairs in the West Virginia University Reed College of Media's Integrated Marketing Communications program.