May 15, 2018
May 15, 2018
Asher Teams with American College of Sports Medicine in Announcing 100 Most Fit Cities
Asher Agency is a leader in communicating cutting-edge healthcare and fitness news, and each May we are honored to work with the American Fitness Index team at the American College of Sports Medicine (ACSM) to release the nation's most fit cities.
Released May 15 this year, ACSM and its partner — the Anthem Foundation — opted to rank the 100 top cities based on 33 evidence-based indicators. In the initial decade of the American Fitness Index, only the top 50 Metropolitan Statistical areas (MSAs) were ranked.
Arlington, Va., previously a part of the Washington, D.C., MSA, came in #1, while the nation's capital ranked #3. In 2017, the Minneapolis-St. Paul MSA won the crown. With the twin cities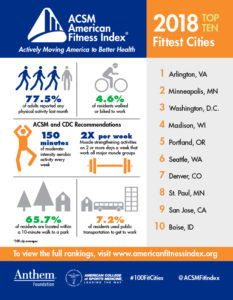 split, Minneapolis came in #2 in 2018 and St. Paul fell to #8. Madison, Wis., Portland, Ore., Seattle, Wash., and Denver, Colo., finished fourth through seventh, respectively.
Overall findings from the 2018 Fitness Index rankings included:
77.5% of adults in all Fitness Index cities were physically active in the previous month,.
The average smoking rate across all cities was 15%, the highest was 25.7%
35% of residents in all cities reported their mental health was not good in the past 30 days.
65.4% of residents in all cities got at least seven or more hours of sleep per night.
30% of adults ate at least two servings of fruit per day, while only 18% ate three or more servings of vegetables per day
4.6% walked or biked to work, and 65.7% lived within a 10-minute walk of a park
At the community level, the Fitness Index has been used to educate community leaders on the importance of key indicators of physical activity. Leaders can then focus on policy, systems and environmental change strategies that are sustainable for their community.
To view the full ACSM Fitness Index, methodology and the many resources available to cities, visit americanfitnessindex.org. We used the hashtag #100FitCities.