May 30, 2023
May 30, 2023
A Balanced Approach Brings Innovative Solution
Even if you haven't needed medical care lately, you most likely know that we are in the midst of a nationwide nursing shortage. Hospitals, physician offices and other healthcare facilities are struggling to find and maintain nursing staff – something that isn't expected to change anytime soon. In fact, the shortage is likely to grow. According to the Indiana Hospital Association, the state will need approximately 5,000 additional nurses by 2031 just to keep up with growing demand.
Three area institutions have found a way to work together to help avert the shortage with an innovative approach. Indiana Tech, Huntington University and Parkview Health have partnered on a new accelerated nursing degree program designed to get new nurses to work faster. The new Bachelor of Science in Nursing (ABSN) is a full-time, in-person program designed for people who already have a bachelor of science degree in any field. In just 13 months, students in the program can earn a bachelor's degree in nursing and start their nursing career immediately.
stepping up to the challenge
Asher client Indiana Tech came to us to help promote the program, however the request came with a unique challenge: how to work with three separate brands which are all major players, including two universities and a powerhouse healthcare system.

a balanced solution
Because each of the three partners had their own brand, we had to be careful to find a look and messaging that worked for all the partners equally. Asher also had to earn the trust of the other brands who were not our clients.
Along with Indiana Tech's in-house team, Asher developed an overall campaign theme that came from Indiana Tech, but also gave equal footing to all the partners. The campaign prominently features all three logos equally balanced.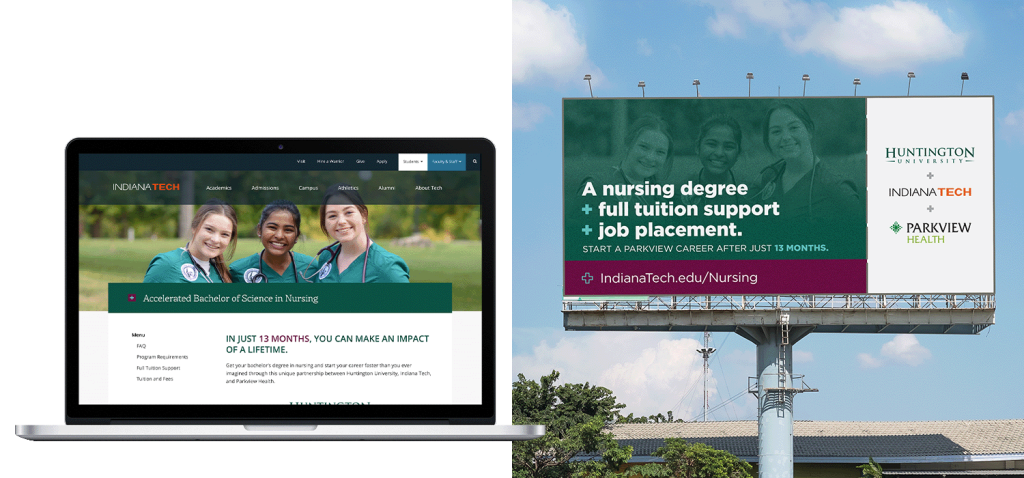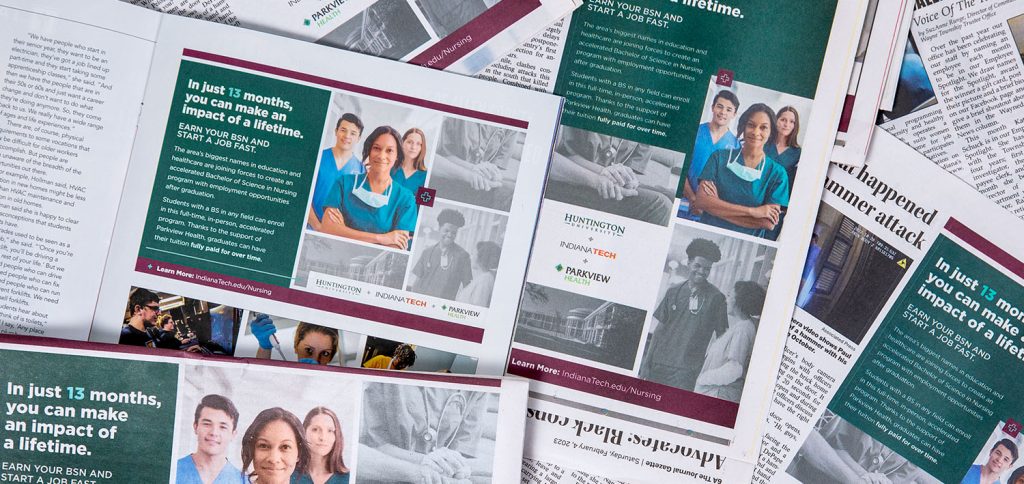 The final result is a campaign that focuses on the overall benefits of the unique program, rather than any one of the partner's contribution, which is a win for everyone involved. Asher also developed a plan for both traditional and digital media to get the message out across northeast Indiana. The campaign began running early this year to generate interest in the program that is set to begin in August 2023.

Sometimes, effective marketing relies on balance and compromise to find an effective solution. And at Asher, we're always ready to do whatever it takes to help our client reach their goals, even if it is a bit unconventional.