November 8, 2019
November 8, 2019
"Salute Our Veterans" Client Campaign Makes Us All Reflect Year Round
I had the good fortune to be part of a client-agency team that announced last week the design of a new "Salute Our Veterans" potato chip bag for chip manufacturer Mister Bee Potato Chips. Once on the store shelves and available online, this specialty bag will help boost the global efforts of the United Service Organizations (USO).
Our Asher team was honored to develop the creative strategy and design for Mister Bee Potato Chips campaign and promote it among the media and key stakeholders.
Mary Anne Ketelsen, majority owner and chief executive officer of Mister Bee Potato Chips, said what we were all thinking: "Veterans should be honored every day and not just one day in November each year. We're proud to announce this campaign to show our deep respect and appreciation for the women and men who have served our country."
The businesswoman pledged to donate 10 percent of the purchase price of the designated "Salute Our Veterans" bags to USO to assist veterans and their families.
"Veterans should be honored every day and not just one day in November each year."– Mary Anne Ketelsen, President and CEO Mister Bee Potato Chips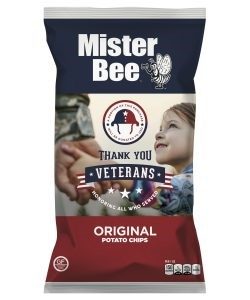 Ketelsen said West Virginia's only potato chip company will produce 250,000 bags with the "Salute Our Veterans" design, which could generate as much as $50,000 for the USO. She added, "We are confident our loyal customers, as well as managers of outlets who sell our products, will enthusiastically support this initiative to show our commitment to caring for our veterans."
A pre-sale of chips in the Asher-designed "Salute Our Veterans" chip bags is under way on the company website, which our agency is upgrading and helping them manage.
The chips should go fast because Mary Anne and Mister Bee have already been featured in four newspapers, two television stations, a statewide radio network, a leading trade journal, and among community and business leaders.
Ketelsen said she has "admired and supported the USO over the years." The USO is a global nonprofit founded in 1941 that serves veterans, military personnel and their families in multiple ways. The USO Pathfinder® assists service members and military spouses transitioning from the military as they settle into their new communities, as well as during their military journey as they transition from one installation to the next.
In just the past two years, Ketelsen has invested more than $2 million in upgrading and computerizing the West Virginia Avenue plant and is building a warehouse at the site to improve its supply chain to vendors and customers. Mister Bee has also been certified as a "woman-owned business" and designated as a HUBZone by the U.S. Small Business Administration.
In addition, the company has secured kosher certification and recently earned the Eurofins good manufacturing practices recognition. The company's production of Mister Bee products has steadily increased, and new opportunities for growth have transpired through co-packing and private label products.
Let's reflect today, and every day, on the important role women and men in uniform and our veterans play in the safety and security of our nation and democracy.
# # #
Mike Fulton directs the Washington, D.C., office of Asher Agency and teaches public affairs in the West Virginia University Reed College of Media's Integrated Marketing Communications program.