April 12, 2017
April 12, 2017
Getting Involved in Government Has Its Benefits
We learn from our clients every day, and one higher education leader showed us the benefits of good government relations.
West Virginia Community and Technical College System (WVCTCS) Chancellor Sarah Tucker, Ph.D. testified March 15 before the U.S. Senate Appropriations Subcommittee on Labor-Health and Human Services-Education on Science, Technology, Engineering and Mathematics (STEM) education, and our agency offered support services in all phases of her testimony, communications, and logistics.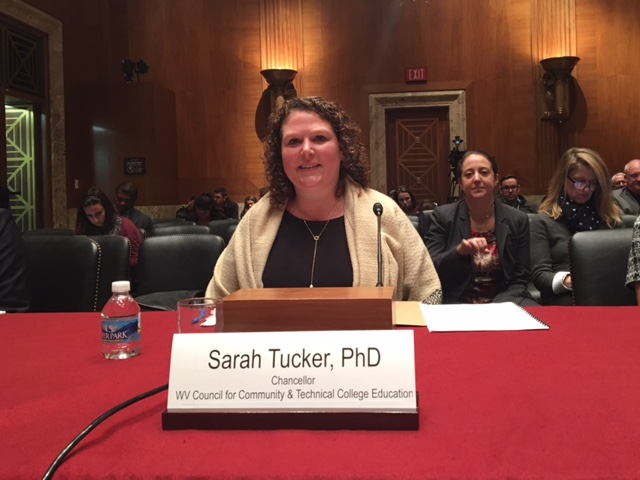 The opportunity to testify before this prestigious funding subcommittee and a national audience happened for a good reason. Chancellor Tucker made a wise decision in 2016 to develop meaningful relationships with her Congressional delegation and to share creative ways the Mountain State's nine community colleges are meeting the needs of diverse students and employers of all sizes.
It was a genuine honor to assist Chancellor Tucker with her Congressional visits, help support several successful federal competitive grant efforts and to accompany her throughout the hearing process. She and her colleagues at the WVCTCS are genuinely making a difference, and the wise decision to bring her story to federal elected officials played out well.
Chancellor Tucker noted that the four largest growth industry sectors in the Mountain State are manufacturing, health care, IT, and energy – all STEM areas – and that while STEM fields have historically been thought of as baccalaureate programs, community and technical colleges are becoming more critical for emerging STEM workforce needs.
"Our typical community college students in West Virginia have families to feed, mortgage and car payments, childcare issues, and sometimes parents for whom to care. Many are either out or work or are under-employed," she told the committee. "These circumstances often cause our students to need to get into and out of a program that will lead to a high-wage career as quickly as possible. In West Virginia, nearly all of those careers are in the STEM fields."
That's why, she said, federal support and collaboration on STEM-focused training opportunities are invaluable for community colleges in West Virginia and nationwide. She encouraged congressional support of federal programs that have proven effective, including National Dislocated Worker Training grants; year-round Pell grants; the GEAR UP program; TechHire; Career and Technical Education; and internships, apprenticeships, and workplace training programs.
"I cannot emphasize enough the value these programs provide," Chancellor Tucker said. "Students, employers, schools, and communities have benefited significantly from them. Adults who have lost their jobs are getting a second chance. Youth who never thought they could attend college are doing just that. Together, we are changing lives."
Watch the archived hearing at LINK.
If you would like to deepen your relationships at the federal level and explore similar opportunities, Asher Agency is ready and willing to help you participate.